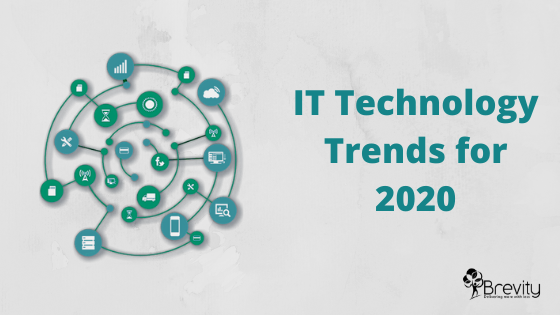 Overview
We are living in the age, empowered by IT technology whereas waking up to the newspaper headline boosts technological advancements or version updates that does not come as a surprise. Enormous efforts of IT technology giants for delivering the best possible gadgets and software to people has added to better acceptance of the tech devices amongst the common people.
In today's high-tech era, what you give to people is very important, however, along with that, how you provide is equally important. Technology companies have learned this space and transformed key industrial sectors like mobile app development, information technology, e-commerce, healthcare, retail, entertainment, media, and web development.
Let's take a quick look at the top technology trends 2020:
AR & VR (Augmented Reality and Virtual Reality)
Pokémon Go is a mobile game, empowered by Augmented Reality and we all know how successful it is. Other than that, thousands of Virtual Reality-based apps and games have been entering the market in recent times.
All these games have been entertaining players to the core that demand for new games created on the same platforms with superior graphics and AR & VR experience. These signs indicated the rise of AR &VR concepts. 
Both web and mobile users have become used to the bots, which understand the usage patterns, learning from it, making predictions as well as help you in all possible tasks with Artificial Intelligence. The year 2020 can be perceived as the world having more AI coming to empower and people had used to them for normal usage.
Deep learning, natural language processing, as well as neural networks are getting studied in-depth for exploring its infinite possibilities. A mixture of cutting-edge algorithms as well as parallel processing powers can result in a better tomorrow.
We have already experienced the world connected through the Internet of Things. The dream of Smart Home has come true to some extent. Although, there are some limitations to this technology at the moment, which will become lesser with more developments in this sector.
We use thousands of appliances and millions of apps in our everyday lives that can work wonders if associated with the common thread. Google, Apple, and Amazon have already started their research phase of taking maximum benefit of these things through connecting them with the Internet of Things perception.
The year 2019 is looking like the skyline for this perception to bloom as well as take a toll on the people. Once it gets successfully implemented, the Internet of Things will treat common people for flexibility and convenience at its best!
As the world has become digital, working with big data sets is evident. Testing and analyzing being the key game changers for all businesses, Big Data development has seen a lot of improvements. There's much more to offer from Big Data and its advantages will get opened to the businesses in 2020 once the research goes in the right direction.
Predictive analytics and user behaviour analytics are used for extracting the data required to perform business operations as well as optimize them. Big data analytics make that possible to simply retrieve data according to your requirements as & when needed.
The year 2020 will be a wonderful year with the obsession for automation going upwards, showing no signs of slowing down. This combination of automation and machine learning has the power to raise a whole new age.
Do you need food to get delivered at your home or wish to book a cab for going to the office? You can easily do with a few clicks. Whatever your requirements might be, it can get fulfilled with only some taps on your mobile screen.
The industry of mobile app development has increased by leaps & bounds, having created apps for any tasks. It has stopped mobile phone users to get any type of service. People have reacted quite positively for on-demand services including AWS that will further encourage growth in the upcoming year.
Wrapping Up
Top technology trends 2020 will change the living of human beings completely in 2020 and that's assured!