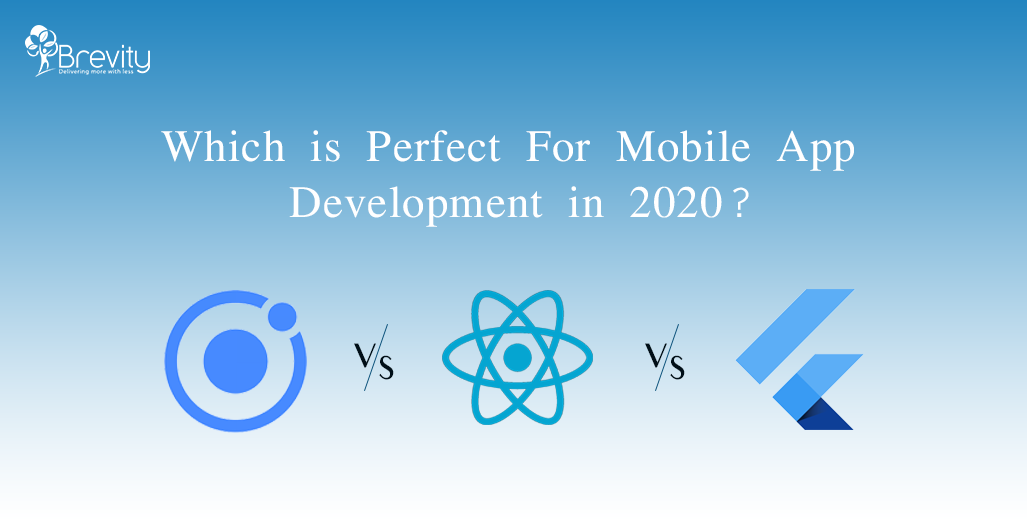 Overview
Making a cross-platform Android application has a huge demand with the accessibility of frameworks, which can create apps without using any programming language like Java and Swift. React Native & Ionic, both are the most suggested frameworks used to create scalable, engaging, and secured mobile Android application. Choosing among the React Native, Flutter, and Ionic is a challenging job for many app developers. Let's explore the latest mobile app trends in 2020 with React Native vs. Flutter vs. Ionic.
User Interface (UI)
When creating a mobile app UI, you can see a huge difference amongst these frameworks. React Native utilizes native components while Flutter implements widget sets, which are quite wonderful as well as are good for the customized UI designs. Flutter has very few limitations when an app lacks some components therefore, the user experience gets compromised. Whereas React Native is a vigorous framework, which enhances the UI. Brands searching for Android application development need to concentrate on the App UIs for better customer engagement. Ionic Framework includes UI components that are reusable elements working as the structure blocks for the mobile app. CSS, HTML, and JavaScript are utilized to create app components. The Ionic components are easy-to-customize for global changes around the world.
Performance
React Native, Flutter, and Ionic are well-known for their performance because of the JavaScript layer and Dart frame helping connect with the natural components. React Native is having a huge customer database, however, developers get troubles when comes to creating hybrid apps. Though, with so much alteration, the native apps exceptionally adjust as per the requirements. At times, developers face problems whereas running the React Native architecture. Although Flutter makes that easier for developers because existing code could be reused for expansion work. Ionic helps developers create mobile apps with various web technologies as well as give access to native features including a flashlight, file storage, and camera.
Development Time
React native is the most widespread framework for creating innovative mobile apps. This is the first choice of developers due to its lesser development time and work efficiency.
Flutter takes more time in the development however, it makes sure high-quality usability. The accessibility of components makes any development procedure easy and swift in React Native, therefore, it is a preferred choice of any android app Development Company
Ionic Framework is the open-source framework to develop cross-platform apps for Android and iOS from the single codebase. Getting attractive UI components to increase the speed of mobile app development and could be virtually systematized.
Steadiness
Steadiness is an important parameter for business enterprises that want to launch the mobile app and choosing between many frameworks is a tough choice to make. Flutter is supported with wonderful features. With enormous consistency and community support, React Native is a very popular and suggested framework. React Native has recognized itself for its reliability and features whereas Flutter is struggling there. Ionic enfolds the AngularJS framework with CSS and HTML5 as well as uses Cordova for using native device functions. AngularJS is entrenched in Ionic by default permitting to create accessible mobile apps.
Customers
React Native doesn't need any introduction. It is recognized as the most capable mobile app development framework for the developers. The framework provides features for building mobile apps of all functionality, size, and vertical. The framework has empowered various big names like Instagram, Airbnb, Facebook, Skype, and Walmart.
Flutter is in its establishment phase as well as can't make a strong presence in the app development business. As this framework is new for the market, it will surely need some time for making an impact as well as be familiar in the market.
Wrapping Up
So, here, we have gone through a detailed comparison of the mentioned frameworks for mobile app development. All these frameworks have their advantages and disadvantages. Therefore, it is very difficult to make a statement about the real winner because all have their pros and cons. However, it is recommended if you want to hire an android app developer to fulfil your mobile app development requirements then ensure they are experts in all these frameworks. It will help you stay competitive as well as meet the required business goals. Still, if you have any queries, you can contact Brevity for more assistance.