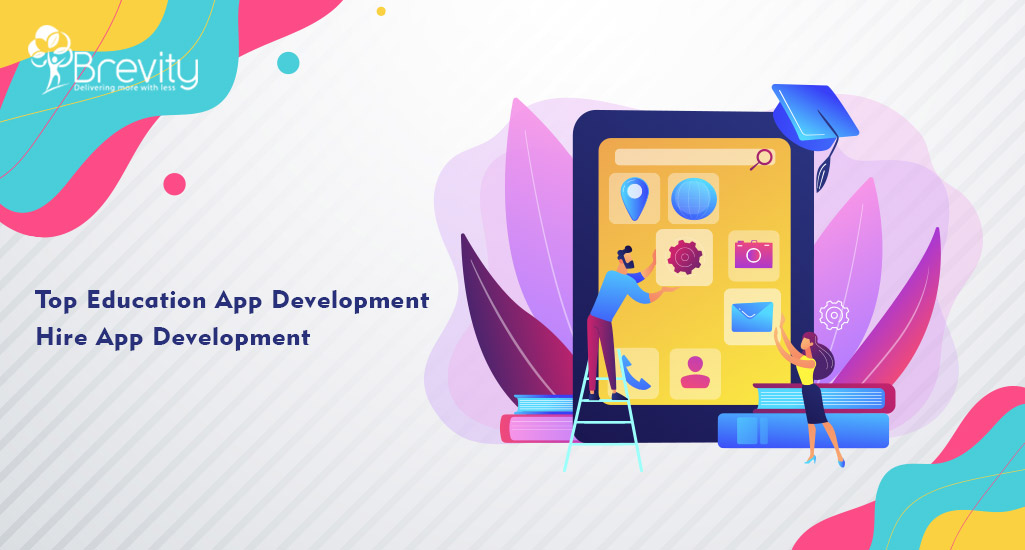 Redefine YourEducational Experience with Education App Development
Changing the education methods from a conventional approach to a smart learning approach. Education technology apps are a well-organized way of learning using document files, online videos, and audios. E-learning has completely changed the way how students cooperate with different studies as well as learn from home or exterior of schools.
Top education application services offer a group of opportunities for the educational industries to provide an extensive range of learning activities for their audiences. At Brevity Software, we believe in providing the finest solutions for the students to assist them to study fast and enhance their future through implementing the knowledge.
Different Education App Development Solutions
Get the finest apps for your businesses with Brevity. Doesn't matter if it is a smaller business or a multi-national company, we deliver education apps for different customers as per their budget. We always care for all our customers and help them to get educational field-based applications as they want. We offer a free quote before closing any deal so that they can get a chance of testing our transparency before doing the initial payments to be indifferent app development works. We are the best Education App Development Company in India with years of expertise and experience in creating ios, Android, and Cross-Platform apps for different sectors, therefore when you hire education app developer from us, it's a smart choice to have the apps for your education business.
Coaching Class App
Do you want to provide special learning programs to people around the world? Hire a professional Educational Mobile App Development Company to get the finest coaching class apps within the finest price range.
E-Learning App
Are you having many students for business websites? Hire us for getting the finest custom education apps solutions by which all business organizations can assist their future clients to use study materials from mobile devices.
Game App
Are you looking to create educational apps having games facilities? At Brevity, we provide different solutions for educational groups and get user-friendly and educational gaming apps for the customers to draw more kids to learn.
Kids App
Brevityoffers the kids' Apps Solutions for the Education Industry having distinctive characteristics like nowhere. We create educational apps for kids having lots of features that customers could never observe in other apps of the iOS and Android platforms.
Language Learning App
Do you want to create learning apps for all your business requirements? At Brevity, we are accessible for you to provide different language learning apps to help your prospective clients learn different languages easily.
Math Problem-Solving App
We offer you the finest customized app solutions for all your mathematics problem-solving applications requirements. We assist you in getting the apps, which match your precise requirements at affordable prices.
Online Training App
Provide online education for full-time and part-time with the assistance of our education app solutions. Our customized app solutions will assist educational groups in providing different kinds of online education daily.
Project Listing App
Are you looking to list educational projects within your business education apps? Hire the best educational app development company in India to get a Project Listing App. All our apps will assist your customers in accessing the projects as well as information on their preferred devices.
School App
Get the finest school apps for an educational business with our best Education Mobile App Development Company in Rajkot, India. We assist school groups in getting an easy access app at an affordable cost.
Students/TeachersApp
Do you want to get the top education application for the Education Industry? Hire education app developer from us to get custom solutions, which connect teachers and students on a similar platform.
Why Choose Brevity as Your Education Application Development Company?
All the mobile apps developers are well-experienced in the education domain, therefore, new ideas and suggestions would be freely provided during a planning phase.
As a mobile application development company, we never fail in collecting the requirements before starting the app designing works, therefore, there won't be any miscommunications during the development procedure.
At Brevity, we never go after the money as the intention behind our app developers is to please the customers by having App Solutions for the Education Industry so that every business customer will get cost-effective solutions whenever required.
If the customer requests our team to add additional features in the current education mobile apps during the middle of a development procedure, our game developers will accept that without any problem.
The reason behind every business requirement to select our Education App Development Company is that we have the finest iOS and Android app team having designers, developers, planners, and testers. All our developers work very hard to implement all your requirements on the apps as well as get that delivered before a given deadline. If you go through the listing of the best educational app Development Company in India, Brevity top the list and our present customers are proof for that.
We have teams that handle different operations associated with a development phase. Our team will develop, plan, test, as well as deliver different education apps. Another team will observe all the newest technologies available in the market, therefore, it helps all the business clients to find the latest technologies updated to provide and best Android and iOS mobile applications for all the business requirements.
If you are looking for the top education app development services then contact Brevity Software!