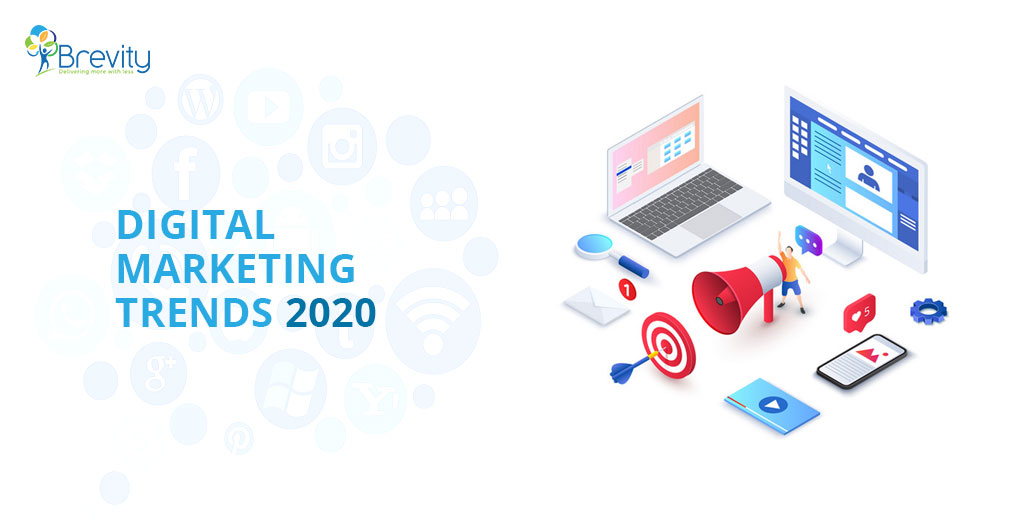 Overview
2019 was an extremely busy year for marketers. As many new marketing technologies overflowing the market, predicting top marketing trends in 2020 is very hard. Here are the top digital marketing trends of 2020:
Analytical Marketing
Our age has data wealth where people associate with the brands over numerous channels, they use content in an unstructured manner as well as do sufficient homework before buying anything. Analytical marketing analyzes all the unstructured interactions to get positive data outlines and expect results accordingly.
All the mature platforms are talking about predictive analytics as well as predictive lead scores of their podcasts and blogs. It means that serious R&D gets done to start providing this competence. As per GlobeNewswire, the market size of predictive analytics is anticipated to reach $10.95B by 2022.
Some common uses might be recognizing the likeliness of new leads making any purchase decision as well as what sequences of messages should be delivered to them. Or possibly recognizing the most talented channel for the message delivery as well as determining the kind of messages to send accordingly depending on the predicted buyer's stage.
Also, advanced e-commerce businesses are leveraging the predictive data like previous purchase history, customers' preferences as well as click-through behaviors for recommending new products and superior custom-made retail experience for the shoppers. Amazon does it in the best way where they discover your readiness and time to purchase and then deliver targeted product recommendations through emails or through"Amazon Assistant", a browser extension.
Intelligent Ad Bidding
As per e-marketer, Google and Facebook are leading the list of digital ad spend in 2019 with $103.73B and $67.37 ad earnings respectively. Their race in 2020 is getting the finest return on spending using smoother ad bidding alternatives. Indeed, ad bidding is the initial thing Google and Facebook ad specialists address during the training calls.
Whereas ad bidding is not new, both players are getting inspired by the new options. For instance, Google lately announced during the Google Marketing Live 2019 a smoother automated bidding that uses the machine learning for optimizing particular performance targets in every auction—the feature recognized as "auction-time bidding".
Intelligent automated bidding also consists of different kinds of bid strategies including Target ROAS, Target CPA, Enhanced CPC, or Maximize Conversions. Advertisers may use either of the strategies at the campaign level, portfolio level, or group level.
Facebook and Google will also be providing more local event and business based ad support for associating the gaps between advertisers and local experiences.
SEO Service and SEO Updates
According to a marketing analytics firm Jumpshot, 49% of the Google searches have resulted without any clicks in the first quarter of the year 2019 meaning that nearly 50% of the searches are missing lost the chances of getting traffic.
Another important change is the number of visitors, which businesses are having from organic efforts as well as SEO service is projected to decline.
With Google algorithm updates, Google has been prioritizing enriched 'visual search' snippets in all the devices and platforms that allow the visitors to have all the data they are searching a lot quicker as well as help them select the right site to click, from the best results. Depending on the study done by Path Interactive, the people with age –between 13-18, 40% of them will get what they require through enriched snippets.
All the Google updates and efforts will get more learned click-through as well as will decrease the bounce rates intensely. The technical execution about the rich snippets is a big part of structured data as well as "Schema Markup" that is anticipated to be the top focus of SEO updates during 2020.
Multi-channel SocialMessaging with Superior Credit
Marketers understand that more and more prospective buyers and existing clients are all dispersed online and they are ready to perform directly from the ideal messaging channels. Different messaging apps are grabbing this chance and offering new APIs to open messaging among consumers and businesses.
Apps like Facebook Messenger, Whatsapp, and WeChat, are not limited to only personal uses. Although some have limited private APIs including Whatsapp, apps like Facebook are much suppler when comes to automatic bots and already have fully-fledged marketing technology available in the market.
Because the total active users of these 3 channels collectively reach 4+ Billion, a lot of businesses will increase their customer visit channels and accept a minimum 1-2 new messaging platforms by 2020. It will help them efficiently communicate with the audiences and improve personalization tactics. It also helps customers that are anxious about obscurity to directly extend to brands as well as interact using the preferred channels.
Because of this development, marketing platforms can trail more data precisely and make better attribution models to regulate if the conversion had come through the Facebook chat or SMS. Basically, among the hardest problems for the marketers is to measure attribution from the active referrals or combined with. The multi-channel social messaging would provide native solutions to the problem.
Adoption of More Voice Searches
Voice searches have started to get pace and as anticipated a few years back "50% of the online searches will become voice-based in the year 2020"!
Moreover, using smart devices like Cortana, Alexa, or Google Home for answering users' questions or play music, different brands can use these devices for providing voice-services to their customers.
Because of startups like Jetson and Blutag, businesses, which sell online could now turn the product catalogs in fully-fledged voice-enabled marketplaces as well as let the customers use the current voice-enabled devices to give orders with easy voice commands. It leads to the easy and quick customer experience through getting them in their proposed results quickly.
Wrapping Up
If you get observed, there are key trends, which have been developing in recent years as well as continue to increase position where new methods have recently produced that marketers have started to concentrate to increase their business.
The key takeaways are to continuously keep up with the new technologies as well as find out how to take the majority out of newer developments to lead the competition. If you are looking for the top digital marketing services in USA, then you can contact Brevity Software to fulfill your requirements!