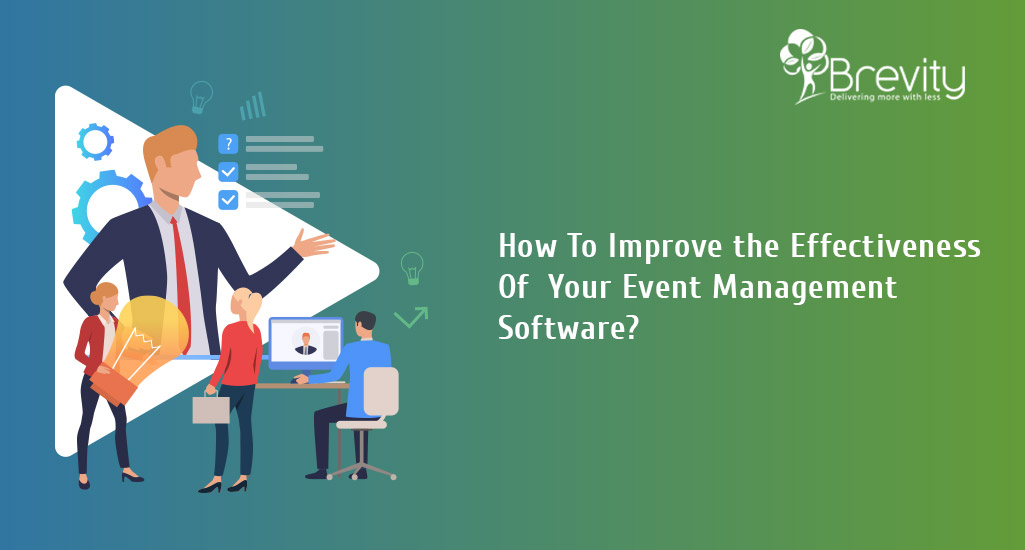 Overview
If you're having an event management software development company or worked by the corporate heads to control events for the business, having an event management tool or software is mandatory. It automates different processes and tasks like event marketing, creation, or registration, etc. It also provides you with a complete view about your calendar and helps you talk with your clients from a sole, combined environment.
The good news is that with a few twists, you can increase the effectiveness of your event booking software and completely maximize its potential. Let's see how you can improve the effectiveness of your event management software:
5 Tactics to improve Event Management
Ticketing Apps Integration
An event management tool like ticketing apps is an attachment for the latest sort of event management stage. Tickets are amongst the most effective ways of measuring attendances, monitor and assess performance and also a wonderful source to do analytics.
Though, if you are having any online event management software, which doesn't have such features, it is sensible to buy new software or you can include an event ticketing app in your current event management software through API or integration.
Integrating with different event ticketing apps like Ticket Master, Stub Hub, and Seat Geek helps you in selling tickets through platforms, which are already well-established and familiar with your targeted consumers. It is perfect if you are promoting concerts, sporting events, conventions, and festivals.
Integration of a Venue Finding Tool
If you ask any expert event organizer or manager about the tips for successful event planning, the majority of then will let you know the importance of having a good venue. Factors like location, venue's capability, accessibility, zoning laws, surroundings, as well as safety and risk elements are important in getting the right venue for an event.
The majority of event management systems are created with the integrated venue searching tool however, the majority of them are restricted to hotels as well as mainly purposed for reservation and guest booking. Making a customized venue finder characteristic, integrated with the GPS will surely upgrade your event booking software.
Also, you can come in specifics like the types, potential numbers of attendees, as well as proximity to establishments and features amongst the others. In the quick search, a tool will offer you the list of venues, which match your criteria. Getting the right venue for events is important however, it shouldn't become difficult.
Use QR Codes to Streamline the Event Entries
People visit your events light-headed with expectations and excitement. However, standing in line for hours kills their excitement, waiting ushered by the event staff equipped with registration lists.
The QR code technology eliminates the requirement for lists and spreadsheets. It certainly speeds up the admission process, adding extra value to the attendees' experience. Any particular app is capable of scanning more than 1,000 tickets using QR codes in one minute.
The finest part is, you could install various QR code scanners your mobile devices by paying only a few dollars. It means you can add additional entry lanes without investing in the scanning equipment. The QR code scanners are amongst the finest ways of improving an event ticketing app.
Leveraging Data Analytics
Any event management software needs to come with the data analytics tools in helping you get deep into the information and find out opportunities, which will assist you in performing better. The advantages of data analytics for the event management consists of more sales of tickets, better budgeting, and planning, as well as the knowledge about what works as well as what doesn't.
This helps you recognize different factors, which encourage attendees to join. It provides you with a greater look into different kinds of demographics, helping you to get a superior understanding of their motivations.
An Extraordinary Experience on Offer
Event management software development has its advantages for every marketer or event organizer. It streamlines the entire job of creating as well as managing events with the early phase of conceptualization to scheduling to realization as well as all the procedures in between.
It's very easy to understand how event management can be a business in itself as well as gaining profits is their priority. Event organizers understand that while making money is the key objective, their job is to give a promise as well as fulfil that promise – an unforgettable experience for the participants.
Wrapping Up
Brevity Software can help you in your event management business with professional event management software development services.