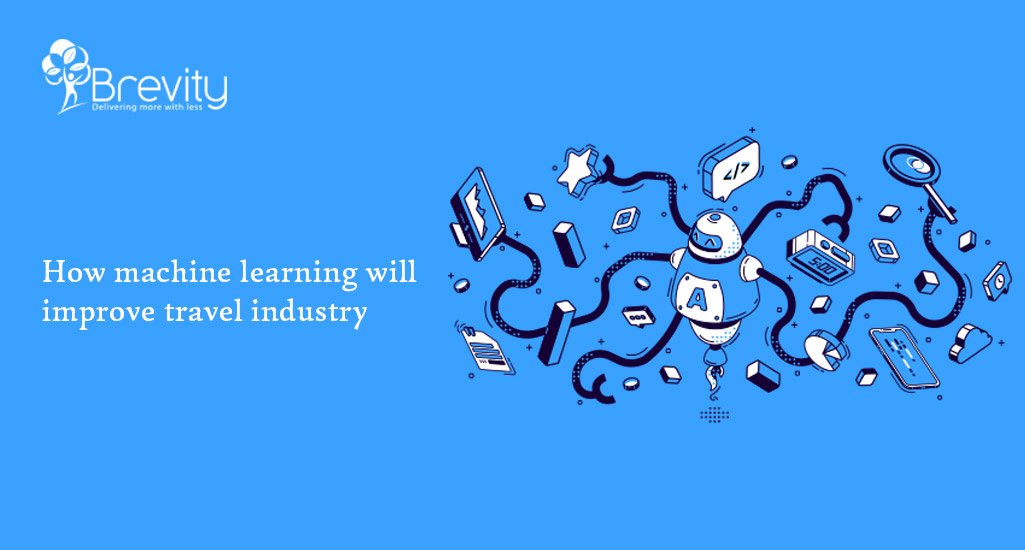 Overview
The increasing popularity of the new IT developments is going to provide major changes in the hospitality and travel industry. Its possibilities for innovation are infinite, with new ideas testing daily. Business procedures and services have evolved because of the huge amount of data,which needs processing every day. Digital media has become a very powerful source to reach clients, engage them as well as answer their questions. Using the mobile-first revolution, different travel companies and agents work hard to become available everywhere, 24×7. The latest tech trends let them improving working efficiency as well as increase the clients' satisfaction levels.
AI (Artificial Intelligence) and ML (Machine Learning) are the two key trends, which big and small companies need to follow today. We have already witnessed a great transformation in machine learning app development and travel app development. To utilize the power of technology, we need to become aware of modern tools. Let's go through how ML gets applied in the traveling niche and discover what are the key changes and improvements in that.
Automatic Customer Services
Customer services play an important part in creating brand reputations. Actually, it is more important than the prices and service quality. As per IBM, the customers will achieve 85% of relations with the agency without any human communications soon. It might look risky initially. However, this helps in solving common problems and prevent new problems. As per Airlines for America, travel delays, as well as mixed flights, are the main reason why customers lose a substantial amount of money. It is associated with longer and complicated reassigning procedures. Travelers have to talk with the customer agents as well as wait for many hours to get deserved compensations.
Chat bots for Superior Support
Chat bots are the messenger apps that work as virtual assistants for users. They can replace human interactions providing quicker and more efficient solutions.Modern-day travelers don't require to scroll over dozens of site pages to discover necessary information anymore. As an alternative, they can utilize in formal applications. The chat bots provide the necessary information within a few seconds. Users can enter specific queries and get precise and detailed information about certain types of flights or services. In such a way, they can relate prices, discover newer flight alternatives or even make reservations. Learning from all new reservations or requests, AI chat bots offer results and solutions associated with clients' reservations history.
Increase in Customer Loyalty and Conversion Rates
Travel agencies and commercial airlines can take benefit from ML. Adjusting clients' interests, they provide superior user experiences to the clients. Although the airline understands a bit about the new clients, ML can get data about the travelers getting the same profiles to offer personalized trips advised for them. It helps in converting potential customers into actual ones.
For instance, a framework called "Connected Traveler" could understand the travelers because of ML. Gathering data from different apps, this designs customer's behavior views. Providing a modified approach and product offerings, ML is a powerful tool that helps companies in boosting sales.
Reference Engine
A reference engine is a very powerful tool, which simplifies the navigation procedure very well. Depending on the user's preferences as well as trending searching results, it produces a list of suggested flights or hotels. Screening thousands of alternatives, it selects the best ones as well as offers users to them. The engine depends on the customer's previous bookings, preferences, and budget. Gathering important data, recommends trips, flights, restaurants, or tickets to the customers. From night life to culture, this engine covers all aspects that you are involved with. Looking at different authority websites like TripAdvisor, Foursquare, and Lonely Planet, it provides complete and user-centered solutions.
Review Analysis
Reviewing portals as well as social media channels are dominant resources of travel details. Customers should believe that reviews are written by actual people. Therefore, the testimonials are extremely important for creating support authority. Contemporary tools use ML to scroll using these reviews quickly and efficiently. After that, they transform their meanings to different companies. Negative or positive, every person's opinion will be considered. It permits us to see overall images of how the users get tour operators. Therefore, agencies make some adjustments while necessary.
Trips Planning and Flights Pricing
ML can be a very useful tool in the flights of trips planning and booking. As flight prices differ a lot, clients need to continuously observe them get the finest offers. Thankfully, the intelligent tools permit us to track cost reductions and provide the finest deals to the customers. One more powerful tool which can notify the Internet users regarding the finest hotel prices as well as predict future rates. Prognostic analytics consider many factors including daily rates, weather, customer's booking preferences, and more.
Machine learning may also offer an easy quick trip planning. Currently, the customers can do the booking of hotel rooms using their voice! Natural language treating combined with the ML methods allow fast and seamless reservation procedure.
How to Get Benefited?
To get the full benefit of machine learning, the companies should hire highly-skilled technology specialists. Such experts can help make new solutions and accept inventive approaches. However, currently,we are experiencing alack of ML specialists in various countries. To resolve this problem, companies search overseas. Creating a devoted development line up in another nation might not be the most apparent solution, still, it's amongst the most efficient ones. If one chooses to hire in-house machine learning specialists, it might be a more expensive and time-consuming procedure.
Conclusion
On the whole, the tourism industry is facing the requirement of managing a large amount of data, very important for strategic decisions as well as operational procedures. Traveling companies are adjusting as per the customers' expectations, which are continuously growing. Small or large, businesses try to achieve better performances. Looking to stay in touch with the latest propensities, they are arranging for tomorrow's encounters. Amongst the most significant ones include price dependency, amplified tress levels, and the requirement of becoming digital. Technology advancement pushes agencies towards success, making that more innovative, whereas also bringing several new challenges.
These and many other factors result in a large spread usage of machine learning in the travel niche. The powerful technology assists in avoiding future problems and improving the overall procedure efficiency.