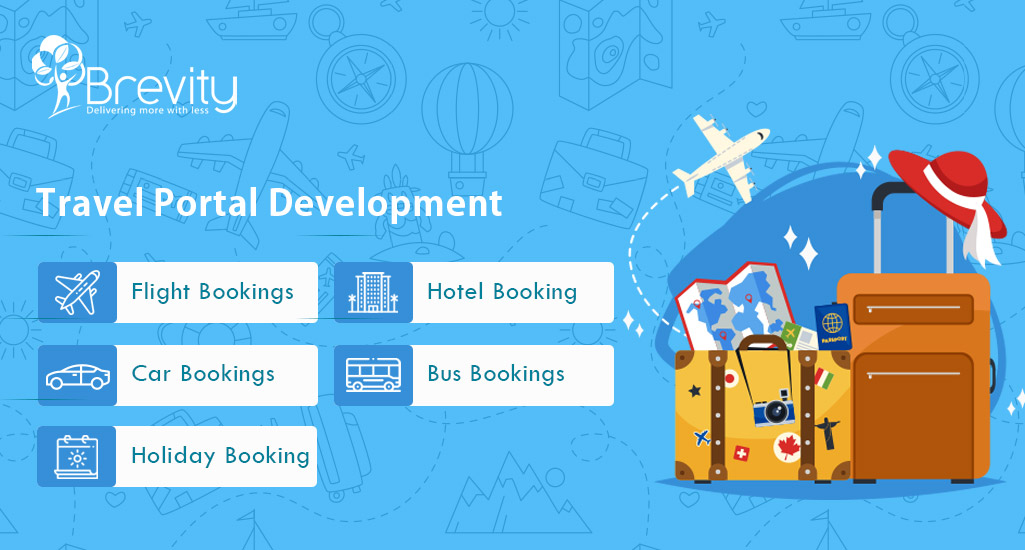 Overview
There are a lot of attractive places for visiting in this world and because of the internet, you can get any information anywhere. When comes to book traveling tickets, doing hotel reservations or a traveling business service provider, it's better to provide supple services to your customers.
Now tour operators, travel agents, as well as travel agencies have to develop, design, and integrate a travel app. Without doubt, there are many travel portal development companies that provide tour & travel web design, travel app development, online booking systems for flights, integration of hotel booking API and more, however, you must make a sensible decision about that.
Here are the key tips on how to choose the best travel portal development company:
Application for business and Leisure
As far as travel portal development is concerned, a valid travel portal company will understand the tricks for engaging the customers or visitors with leisure and business. Any B2C travel portal development will ensure that a website has the features, which can keep the customers stay on the site. It means that the website should be informative having interesting articles and blogs where travelers or somebody planning for future trips can read or know about different interesting tourist spots through your portal and plan his future visit there. The best travel app companies will certainly include all the features in the travel portal to streamline the booking procedure for the travelers as well as attract a lot of travel enthusiasts or somebody who is preparing for the next trip.
Check Their Portfolio
The finest travel technology companies will certainly have a portfolio showing their services. So, it is your responsibility to check the portfolio, technologies they use, as well as their working knowledge.
Effective Project Communication
Communicating with the finest traveling website designing company does not indicate that you will hire them. Rather communication makes the knowledge better. So, you can ask for a free quote from any travel B2B development company and then give a contract to the best one.
Global Recognition
Any travel portal development company will certainly have relations with Global ATP or XML providers. Using ATP Integration, any travel portal gets universal credentials as well as a chance of boosting their business and produce more sales. This Global API Integration software consists of Amadeus, RoomXML, Travelport, etc.
Infinite Traveling Products
Any ideal travel mobile app development company needs to be well-experienced to work with boundless travel products. Travel portal developers know an ideal process to integrate travel websites with most widespread APIs like Amadeus, Mystifly, Galileo GDS, and more.
Payment gateway Integrations Types
Any reliable travel development agency always uses secured payment gateways. With the help of protected payment gateways in the travel portal will inspire more and more travelers to use your services because they will feel secured about information misuse. Finest payment gateways consist of PayUBiz, 2checkout, Paytm, Payfort, American Express, Authorize.Net, and more.
Suggest Travel Portal DesignsAs Per Requirements
This travel industry is enormous and as a travel agent, you have to cope with hotel bookings or might be your business is about offering transportation or might be you are the tour guide. So, everything on the website needs to highlight the services. Choose to work with the company that understands as well as fulfills your requirements with ease.
Stay Within Specified Budget
The budget always has an important role to play because, with more complex features, you need to pay more for the features. So, before you hire a company dedicated to the travel portal solutions to clarify travel portal development cost. One more point is to keep an eye on different website features for which they take charge. Doing research is extremely important to understand different market rates. Offering a particular budget is the mark of expertise and professionalism.
Secured Time
Anyskilledtravel portal development company will surely complete the chosen task on a secured time-frame. They would never surpass the assured time-frame or delay the delivery of project data. Being a travel agent, whenever you are plan to have an online business, communicate with a traveling portal agency whenever you develop a project. Any experienced travel company needs a maximum of 2 weeks for developing and integrating an easy traveling portal for more technical websites they will have a maximum of 1-1.5 months for any travel app development.
Working with Proper Keywords and Content
Any travel website needs attractive content as well as lots of tour related data. Any experienced travel portal development company will offer you the right on-page tricks to get more visibility about top search engines as well as produce organic sales.
Wrapping Up
Being a B2B and B2C travel portal development agency, Brevity Software develops websites for customers as per their requirements. Our flight booking software is user-friendly with the most advanced features. You will have a striking call to actions, custom-made search filters, live chats, multiple and secured payment gateways, etc. Contact us for all your travel portal development requirements or ask for a free quote!