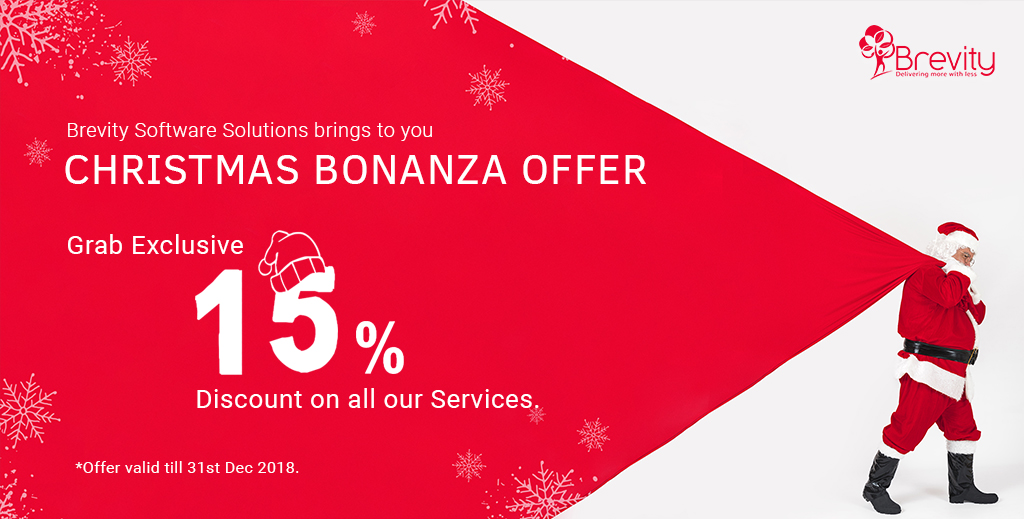 Christmas is here and Santa recommended we give you a Christmas gift! Yes, being heedful to his recommendation, Brevity Software Solutions has an offering with a booming gesture of impeccable Christmas offer on Web and Mobile Application Development. On this Christmas, we have brought a special largesse to make your festive mood more enjoyable. Yes, you guessed it right!
Points to be noted:
Special Discount: 15% OFF on our services
Offer Duration: Applicable on the orders given before 31st December 2018
Discount Area: All Services (But discounts will be applied based on the service requested)
About company
Brevity Software Solutions Pvt Ltd is an India-based offshore development IT Services Company. We provide strategic business solutions and customized software. We are a team of enthusiastic and most experienced software professionals aimed at offering Web and Mobile Application Development
We have 8+ of years experience in the field of:
Mobile Application Development (Android, iPhone, and Windows platforms)
Web Application Development
Web Design and Development
Open Source Development
Custom Software Development
Enterprise Mobility Solutions
E-commerce Development
Microsoft Application Development
Digital Marketing and SEO services
Our team consists of Project Managers, Software Architects, Team Leaders, Developers, Designers, Content Writer, and Testers. We are appreciated not only for our technical expertise but also for our continuum of business solutions by meeting superior quality measures and outstanding service. Our clientele is spread around the globe.
So, if you want to refurbish your mobile application and website then, hurry up and get a quote and make this festival experience of the lifetime for you. We wish you all a Merry Christmas & a very Happy New Year!